Product Description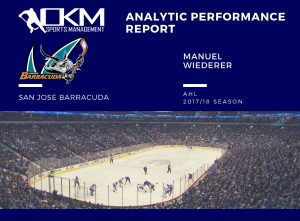 Let us complete one the true keys to accelerated development, an Individual Analytic Performance Report.The report completed via video, tracks ALL known statistical details of a players game-time performance. Through the individual analytic performance report we're able to gain knowledge of the components of a player's game and are able to specifically catalog what works, what doesn't and what a players strengths, weaknesses, and tendencies are.
Player analytic performance reports can be a key component to accelerated development. Individual statistical tendencies can then be shared with their coaching staff to allow for better integration within team coaching strategy. Furthermore, understanding a player's productivity in relation to winning highlights his strengths and weaknesses as they move to higher levels of hockey.
The information we obtain allows you to develop in the most efficient and productive way. The Analytics obtained are also of high value to coaches, scouts, and professional hockey programs, as they do not have the resources to learn a potential player's tendencies.
Game-Time Statistics Tracked
Average shifts per period
Average seconds per shift
Average shots per period
Average locations of a shot on net
Average locations on the ice per shot
Average shot per shift
Average scoring chance per Shot
Average scoring chance per Shift
Average scoring chance per period
Average location on the ice per scoring chance
Percentage of style (wrist,snap, slap, back) shot, per shots taken
Average Goal per shift/shot/period/style of shot/location
Average number of faceoffs taken
Average number of faceoffs won and lost
Average hand a faceoff is won on
Average number of passes (touches)
Average hits per period/Game
Average dumps period/Game
Average turnovers period/Game